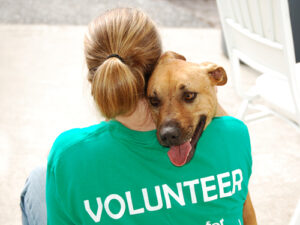 Save-A-Life always needs pet-loving volunteers.  It is our volunteers who have kept us going for over 50 years.

Love to share your heart and home with an abandoned or abused pet? We always need volunteers to foster.
 
Can't foster but love dogs? We can always use dog-walkers and dog-holders during our mobile adoption hours.
Are you a skilled organizer? How about organizing a special fundraising event for us?
 
What about photography skills? We could use some help during mobile adoption to take pictures of our adoptable animals and to post them on the web.
 
Hectic schedule? We can use some help with answering our information line.  It can be done from your home phone and we train you.
 
Like to write? We can always use articles for the newspaper or better yet-how about publishing our own newsletter.
You tell us!! If you love animals and have some time to give, we can use you!
 
The minimum age to volunteer for Save-A-Life is 18. FILL OUT THE VOLUNTEER'S PROFILE APPLICATION AND BRING IT TO PETSMART OR SUBMIT IT  ONLINE  (VOLUNTEER APPLICATION).