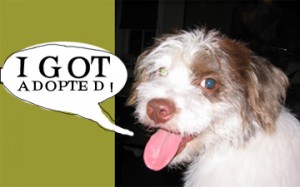 Save-A-Life, Inc.  helps animals find the loving homes they deserve.  Our rescued animals come from a variety of sources including Chatham County Animal control, owners who can no longer care for their pets, breeders and private rescuers who use our community pet placement program. Without our stepping in, many of these animals would have been left to wander the streets and fend for themselves or turned over to Animal Control and the prospect of euthanasia. These animals are then brought to various foster homes throughout Savannah to get them ready to be your new, loving, forever family member.
ADOPTION POLICIES
Our primary adoption goal is to find pets permanent homes with responsible persons who will provide care and companionship for the rest of the pet's life. Because our pets are socialized in foster homes, their specific needs and personalities are better known. We attempt to match the home with the pet's needs. This is to help assure that the pet will be happy in the new home and the owners will be happy with the pet they have adopted. We reserve the right to refuse to adopt to any home. This is not a reflection on an adopter but on our concern that the match be the best possible one. We also reserve the right to ask for veterinary references and to make a home visit both before and after adoption. For more specifics about our adoption requirements, click here
MEETING OUR PETS
We socialize our pets in foster homes and have no shelter building. Look at our available pets for adoption (click here to go to our pet listing). If you see a pet that interests you, follow the contact instructions in the listing. You can also see many of our pets at our mobile adoption locations listed below. Pets may not come to mobile adoptions unless prior arrangements have been made.
MOBILE ADOPTION LOCATIONS
ABERCORN STREET PETSMART STORE, 11132 Abercorn Street, Savannah, every Saturday from 12:30PM to 2:30PM
NOTE: Check our web site regularly to see any changes to the scheduled times and locations for our mobile adoptions
ADOPTION FEES
Dog adoption fees are $200 and up.  Cat adoption fees are $55 for one and $90 for two.  Please inquire for each animal. WE TAKE CASH AND CREDIT CARDS VIA PAYPAL.
Adoptions include:
House training and socialization in homes
Temperament testing
Rabies vaccinations (all pets 4 months or older)
Heartworm testing for dogs (6 months or older)
Feline leukemia and feline immunodeficiency virus testing for cats
Discount voucher for a free spay or neuter (extra charges not included) for unaltered pets
For some pets, additional vaccines and micro-chipping are provided
ADOPTION PROCESS
Find your pet from our pet listing
Contact the foster given in the listing or fill out the pre-adoption survey online
Our foster parent will email or phone you
A meet and greet will be arranged if both parties feel the match is likely to work
Generally, if you are approved for adoption, you may take the pet home from the meet and greet session
You may also visit one of our mobile adoption locations to view a selection of our pets
THE FINE PRINT: You may be asked for veterinarian references, a home visit may be made, we take cash only.
ADOPTION POLICY SPECIFICS

Safe-A-Life attempts to match a specific animal's needs to the home best able to meet those needs. However, there are general requirements that must be met by all adopters:
The adopter must be 18 years or older
The pet will be kept as an indoor companion pet
The adopter will make a commitment to caring for the pet for its entire life (15 to 20 years)
The adopter must be a self sufficient adult who has carefully considered and understands the basic requirements of responsible pet ownership including the provision of daily exercise and human companionship, appropriate supervision and training, proper nutrition, constant access to fresh water, comfortable shelter from the weather, protection from fleas and ticks (and heartworm for dogs), and routine and emergency veterinary care if needed
The adopter will follow licensure laws including annual rabies vaccination and registration for both cats and dogs. The rabies tag will be secured to the dog's collar along with identification.
The adopters of dogs will not keep the dog as a yard dog, will not let the dog run loose, will assure that the dog's exercise yard is secure so the dog cannot escape, will keep the dog on a leash when outside the yard, will not keep the dog chained outside unattended, will secure the dog if riding in a truck, will not keep the dog in the garage
The adopters of cats will keep the cat indoors most, if not all of the time, will not de-claw and will follow instructions given on introducing the cat to the new home if there are cats already in the household
Adopters will not use pets for breeding, for blood sports, for research, for food, for an attack or guard dog
Adopters must not have sexually mature unaltered pets in the household, may not be adopting for another person, must live in a residence where pets are allowed, and may not have a history of animal abuse or neglect
NOTE: Since we attempt to match the pet's needs with the home environment, there maybe times when we have a pet whose needs require that exceptions be made-for example, a "barn cat" that is too unsocialized to live comfortably indoors